The art and design fair season is in full swing in Paris. After admiring magnificent and rare works at the PAD and then the Salon du Livre Rare et de l'Objet d'Art, we are about to discover the 4th edition of the Biennale Révélations, the unmissable event for all enthusiasts and collectors of contemporary creations. In a few weeks' time – from May 23 to 26, 2019 – the show will take place in the nave of the Grand Palais, once again offering a setting worthy of the remarkable artisans who will be present. And the least we can say is that the Revelations Biennial loves jewellers. With more than 25 houses offering jewellery creations, the show will be more sparkling than ever.
The fourth edition of Révélations will be held from 23 to 26 May 2019 in the nave of the Grand Palais. Photo: Révélations
The houses exhibiting are all very different from one another. You will be able to admire pieces in silver, gold, steel and even silicone. Of course, stones will also be present, as several houses are positioning themselves in the sector of very beautiful jewellery. We are also happy to see that this edition features several names that we have told you about many times, here but also on Instagram and Facebook. So, for example, you will find pieces by Benedikt Aïchelé,Amélie Viaene, Karl Mazlo,Esther Assouline, Morphée Joaillerie, MW Paris, Persta or Laurence Opperman. At the same time, you will also be able to admire the creations of international houses with the arrival of Helga Mogensen, Kim-Jung VU, Lydia Hirte and also Rose Saneuil, whose rare multi-material marquetry work is regularly used on watches and jewellery by Piaget. We invite you to discover the workshops that have already caught our attention. While waiting for you to discover them live at the opening of the Biennial. And we might as well warn you, this edition promises to be extremely beautiful!
1- Aïchelé Créations
Two yellow gold rings by the designer Benedikt Aichelé. Both are set with tourmalines weighing respectively 28.58 and 26.35 carats. Photo: Benedikt Aichelé
For more than 25 years, Benedikt Aichelé has been creating and manufacturing unique pieces and small series of jewellery exclusively in his workshop. His jewels, between symbols and emotions, carry meaning. Based in Uzès where he set up his first workshop, you can also find him in Paris in the 7th arrondissement and recently in Brussels where he has just opened a new gallery. His creations, architectural and sometimes even organic, highlight rare and often surprising gems. In love with the colour and the inner poetry of the stones he sets, he knows how to take you with him on his jewellery journey. Not to be missed. Stand F 14.
2- Amélie Viaene
Kiku pendants in pink, white and black rhodium-plated gold. Glass elements made by Michi Suzuki in collaboration with Amelie. Photo : Amelie Viaene
Amélie Viaene creates her own pieces using the wax sculpture technique. She shapes her jewellery, imagines the volumes while sculpting before melting them. Her jewellery is most often unique but she also designs small series. Her jewellery is organic, joyful and even playful. Just like the pretty person Amélie is. She has just opened her first boutique at 62 rue Vaneau in the 7th arrondissement of Paris. She welcomes you by appointment. You can find her at the Banque Populaire Foundation, where she was a prizewinner, stand C12.
3- Amira Sliman
Silver necklace with gold plating and patina. Photo: Amira Sliman
Amira Sliman is a contemporary jeweller whose work revolves around the complementarity of forms and materials. A graduate of the Tunis School of Fine Arts and theAFEDAP, she explores the field of jewellery and conceives her creations as "architecture to wear". Founder of the atelier Wenge gallery in the 18th arrondissement, she offers her work there and regularly invites other creators to join her for temporary exhibitions. Stand H3
4- Claude Schmitz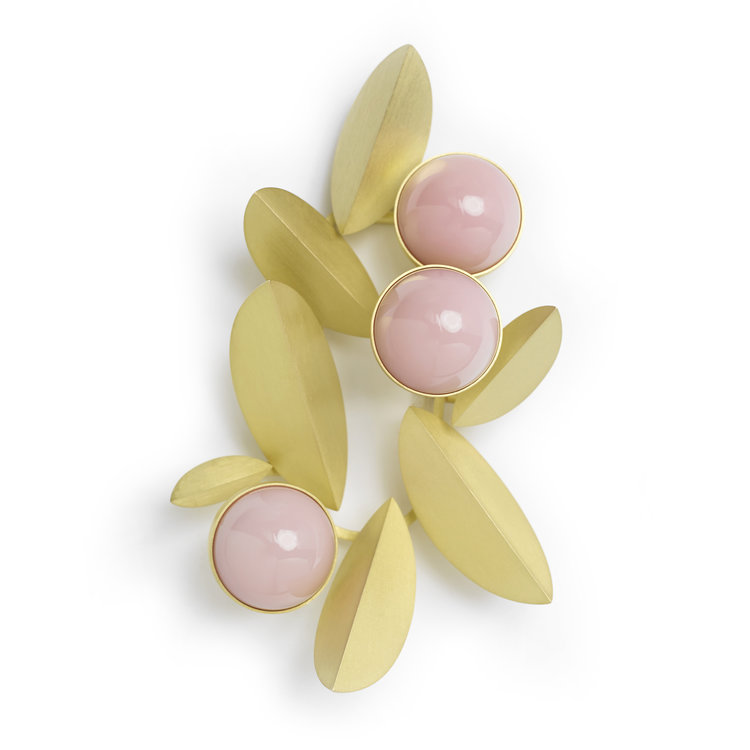 Pink Fruits brooch in yellow gold and pink opals. Photo: Claude Schmitz
Born and based in Luxembourg, Claude Schmitz is a contemporary jeweller who studied at the Antwerp Academy and the Royal College of Art. His work is a subtle balance between metal and stones. Here, the materials orchestrate a poetic dialogue marked by great delicacy. Her creations echo the art of Schmuck – jewellery in German – whose philosophy of less is more is its signature. For our greatest pleasure! To be discovered on G 14.
5- Atelier Levéque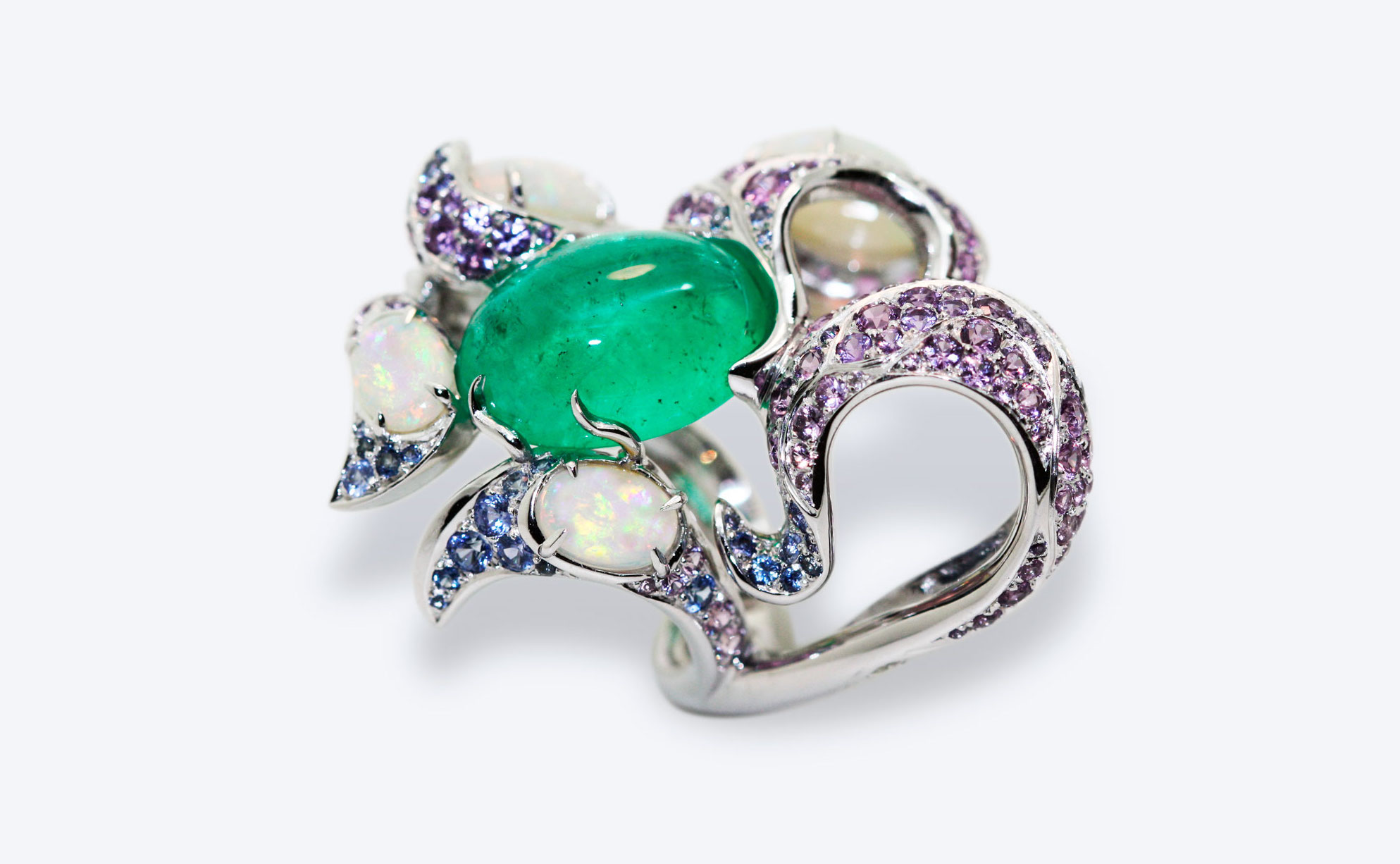 Belize ring in white gold, opals, sapphires, diamonds and a 9.6 carat Colombian emerald centre. Photo: Atelier Leveque
First met at Mes Créateurs Joailliers, Véléro continues to move forward with discretion and elegance. Founded by Aymeric and Jonathan Levéque, jewellers, the brand offers jewellery that is often very elaborate. The company mainly produces custom-made pieces but also offers its own creations. Based in the heart of the Quartier des Diamantaires, in the 9th arrondissement, it is at the heart of the know-how required to create a piece of fine jewellery. Stand H3
6- Helga Mogensel Jewellery
Driftwood and silk necklace, 2018. Photo: Helga Mogensen
Jewellery, thankfully, is not all metal and gems. It would be sorely boring otherwise. So the creations of Icelandic jeweller Helga Mogensen are particularly refreshing and jarring. Her pieces, sometimes bordering on sculpture, question the interactions between people. Using materials from the sea such as driftwood, she tries to translate her life experience into her pieces, also inspired by a place where she spent her holidays with her family. Far from the city and its technologies, this place was conducive to invention and imagination. Discover her work on the AGORA stand.
8- Karl Mazlo
Yellow gold, diamond and steel damask ring. Photo: Karl Mazlo
Working with materials and making them resonate with each other: this is what guides Karl Mazlo, whose portrait you read about on this site a short while ago. A poet, a jeweller, an inventor, he constantly imagines jewels of great delicacy. Winner of the Banque Populaire and Bettencourt-Schueller foundations, his work is now recognized. Cultivating a form of confidentiality, he is nonetheless part of this young generation that is on the rise and that we will hear more and more about. You have been warned! To be discovered on stand C12.
9- Laurence Opperman
Aile ring in silver by Laurence Opperman. Photo : Laurence Opperman
Between sculpture, goldsmithing and jewellery, the pieces imagined and created by Laurence Opperman are at the crossroads of these three disciplines. Gold, silver, gemstones, the designer follows her instinct and imagines jewels whose interest lies in their apparent simplicity. Her pieces are in fact the result of long research into textures and patinas. In the end, the jewellery is graphic and highly desirable. To be discovered in D1.
10- Morphée Joaillerie
L'envol" ring in 750 white gold, diamonds and sapphires. Photo: ©Marie Chabrol
Morphée Joaillerie was founded in 2013 by jewellery designer and gemologist Pamela Hastry. Her career with several of the great names of Place Vendôme has given her a taste for colourful and striking high jewellery. Largely inspired by nature, Pamela knows how to play with colours and imagine jewels with multiple uses. Passionate about jewellery techniques and mechanisms, most of her jewellery is transformable: rings and brooches are one of her signatures. Most of her pieces are unique and it is therefore advisable not to let them escape! To be discovered in B13.
11- MW Paris
Silver, gold and apatite flint bracelet. By MW Paris. Photo: Marie Chabrol
A few years ago, I met Thu-Thao Le Thi, the designer of the young jewellery house MW Paris. Her choice: to make only limited editions of a maximum of 8 pieces to offer rare pieces. Her jewels are like modern protective talismans inspired by the great myths of the East, Asia and the West: the Ra and Bastet rings or the Silchim pendant are among the brand's iconic pieces. The company offers a choice of rarer stones, including apatite and Maw Sit Sit jade, which is not very common in Europe. A must-see in H3.
12- Persta
Shedu transformable ring in yellow gold, diamonds, abalone and opal. Photo : Persta
Persta is the young up-and-coming house that has been talked about for a few months. I discovered the work of Olivier and Guilhem with pleasure and I found it rather successful. The jewels, very geometrical, almost Art Deco, are stacked up, from the small earring to the more imposing and assertive jewellery ring. I can't wait to discover their new products in the Grand Palais. You will find them in A9.
13- Sara Bran
Gold, diamond and opal pendant. Photo: ©MarieChabrol
Sara Bran is one of those rare houses whose expertise is as wonderful as it is indispensable to fine jewellery and watchmaking. And I am delighted to finish this selection with her. In fact, Piaget has called on her talent as a metal lacemaker on several occasions. Because Sara masters the manual cutting of metal like no other. Here, no lasers are used, just patience and unique dexterity. So her place is totally justified in the nave of the Grand Palais, where I am already convinced that she will seduce visitors and provoke cheerful reactions! Her exhibition in Rouen had greatly seduced me and I had appreciated being able to discover her in the amazing Musée du Secq des Tournelles. I can't wait to see her again and to discover her new pieces. Don't miss her, she will be in L5.
*****
As you can see from this article, the Revelations Biennial is going to be exciting and superb. Jewellery and contemporary jewellery will be present and that is a good reason to go there. See you there from 23 to 26 May 2019. And I already know that the nave of the Grand Palais will be a wonderful setting for French and European craftsmen!
See you there!