Dear French readers, you will find below the translation of my article "Destined for jewelry: Frédéric Mané", originally published on the website Jewelry Connoisseur. The American version can be accessed via this link.
*****
The Mediterranean, with all that it conveys, remains the main inspiration for this designer, whose work includes the imperial Alexandrite collection for Rubeus Milano.
Mr Frédéric Mané. Photo: Frédéric Mané
Frédéric Mané may be young, but the 37-year-old is already a renowned Parisian jewellery designer. Trained in jewellery houses such as Mathon Paris, he is now independent: he has his own design studio in the heart of the French capital, where he works for private individuals as well as for international jewellery brands such as Rubeus Milano and art manufacturers such as Emaux de Longwy.
The Scorpion Queen. Photo: Frederic Mané
1-What attracted you to a career in jewellery?
I was born in Perpignan, in the south of France, in 1982. I grew up by the Mediterranean, and spent my childhood between Perpignan, Collioure and Cadaquès – Catalan towns known for famous painters such as Dalí and Matisse. The cultures that come to life around Mare Nostrum are my roots. My family founded a toy shop in the south of France, and I spent my childhood surrounded by an enchanting atmosphere full of tales, legends and art objects. I think I was born an artist, and I was always drawing characters covered in jewellery. I enjoyed creating fantastical worlds, and later I converted my paintings into real objects, clay sculptures and faceted stones. The jewellery industry was an obvious choice for me.
2-How did you start working in jewellery design?
At the age of 18, I decided to move to Paris to study design and I quickly realised that jewellery and objets d'art were my calling. At the Haute École de Joaillerie, where I was a student, I studied jewellery painting techniques. Shortly afterwards, I was hired as head designer for six years at Mathon Paris, an important family-run workshop that works for the Place Vendôme and also offers its own creations.
The Gallactica ring in white gold, blue topaz (treated), diamonds, sapphires and tourmalines. Photo: Frédéric Mané
3-When and why did you decide to become independent?
For four years now, I have been an independent designer. I have my own design studio in Paris, and I collaborate with luxury groups while maintaining a good relationship with Parisian jewellers and international signature brands. I have a strong and broad experience in design, especially in jewellery and precious objects and accessories. In addition, I founded the Orchestre Joaillier, a community of jewellers. More than just a collection of design talent, it is a manifesto for a new generation, and I am very proud to share projects centred on common values.
4-What are your sources of inspiration?
The basis of my inspiration is my Mediterranean roots, the world of the sea and the light on the Mediterranean. And of course, its ancient legends, which are so inspiring.
Boa Constrictor ring, design by Frédéric Mané, manufacturing by Orchestre Joaillier. To learn more about the manufacturing process, I invite you to read my article on this inspiring community. Photo : L'Orchestre Joaillier
5-How would you define your style?
I like to mix my roots with new influences from the world and pop culture. It's very important for me to listen and understand my clients, their dreams and goals. I am a kind of chameleon, able to convert many influences and sometimes opposing ideas into unique jewellery.
6-What gemstones fascinate you the most?
Opals and alexandrites are among my favourite stones. I was fortunate that the collectors and founders of Rubeus Milano – Nataliya and Viktor Bondarenko – invited me to create a complete collection around the most important and rare alexandrites in the world. Russian alexandrite is a stone with an extremely pronounced and sought-after colour change, naturally turning from green in daylight to violet under incandescent light.
7-Which piece of jewellery was the most difficult, from conception to completion?
I had the opportunity to associate my signature with the high-end jewellery collection of Rubeus Milano [at the Musée des Arts Décoratifs (MAD) in Paris]. The imperial necklace for this brand was the most difficult piece I had to create. It was crazy to design an entire collection of high-end jewellery and have it made in six months, mixing alexandrites with carved rock crystal, black titanium, gold and diamonds. Each necklace has six transformation options; you can convert each piece into a brooch or earrings…. As a designer, I had a free hand and no budget limit – it was a once in a lifetime opportunity.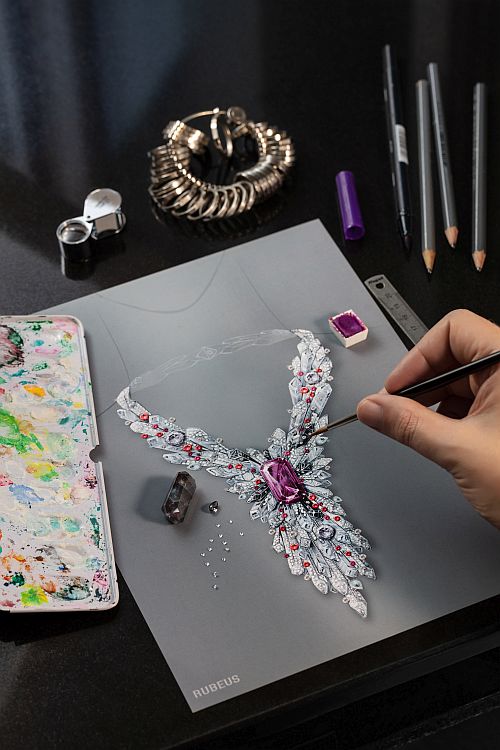 The imperial alexandrite necklace for Rubeus Milano. Photo: Simon Martner
8-What piece of jewellery are you most emotionally attached to?
My great-grandfather's signet ring, a beautiful and opulent man's ring combining blue sapphire and diamonds; our family name is engraved inside. Beyond the value, it is a testament to my family history, which is full of inspiring fates and very strong personalities.
9-Who are your muses and mentors?
My mother and grandmothers are my muses, my father and grandfathers are my mentors. I grew up with them. I am so grateful to them. I have a deep respect for them; they have always believed in me.
The drawing of the Super Nova necklace. You can find it in the excellent book Black Opal. Photo: Frédéric Mané
10-What are you working on at the moment?
I am working on a project of unusual timepieces and revolutionary art objects for a new company – a fantastic collaborative project with my creative partners Jothi Séroj Ebroussard and Anouck Veyret. I am also preparing a new collection for Rubeus Milano for 2021 that I think is particularly opulent, gourmand and glamorous.
The Vesuvio ring for Rubeus Milano is set with a 25.91 carat imperial topaz faceted by lapidary Victor Tuzlukov, but also with rubies, pink sapphires and diamonds. Photo: Rubeus Milano
See you soon!